Spend Analysis in Procurement
08 - August - 2022
Introduction
Close monitoring and keeping track of spending is one of the key elements of a successful business. Spend Analysis plays an important role in business development and leads a path toward business growth and profitability.
What is Spend Analysis in Procurement?
Spend Analysis in procurement is the practice of examining and analyzing an organization's expenditures (both current and historic) from a procurement perspective.
It helps to identify the areas of spending, potential saving opportunities, potential suppliers, in-demand products or services, and optimize an organization's buying power.
Why Is Spend Analysis Important?
Spend Analysis is important because it provides insight into an organization's procurement activities and expenditures. It allows organizations to identify the areas of spending, identify the pros and cons, analyze the profitability measures, and allows to make future decisions based on the spend analytics.
It also provides a great way to identify the potential risks, making proactive measures for the spending that may not fall in our favor.
With the help of spend analysis, the organizations can identify the areas for cost-cutting and work out ways for process improvement. The spend analysis gives an organization the base, the reference from which they can fetch as much information as they can and plan the expenses, and provides the organization maximum savings.
How to Conduct Spend Analysis in Procurement?
Procurement is a process of purchasing goods or services, and in business terms, it is referred to as Business Spending.
There are various ways to conduct spend analysis in procurement. Some of them are listed below:
- Identify all the sources of spending data
- Filter out the useful data/ Clean the trash
- Categorize and group the spending data
- Make the spend data available in the feasible/ accessible format
- Make sure to save data in a centralized storage
- Automate the spending data analytics
- Make it available in report format
Benefits of Conducting Spend Analysis
Spend Analysis has a great impact on the business and perhaps covers the overall spending in a business. Let's take a closer look at its benefits.
• By spending analysis, we can see aspects which areas are relatively doing better or less good than the other. Thus, future spending can be decided based on these analytics.
• It gives you a clear vision of the recourses usage and allotment. Since businesses must make the right use of their resources.
• It helps to measure performance categorically by analyzing the corresponding spending measures.
• It gives a great aid when you are comparing the spending with the estimated or previous savings
• Spend Analysis ensures better compliance.
• It plays an essential role in the budgeting and forecasting process
• It can also be used to estimate the organization's sustainability aspect with the help of the spend analysis summary
Dealing with Common Constraints
Spend Analysis is important, but, if not conducted properly then it's not going to give you the desired results.
Here are some of the common issues, you can say constraints, that prevent you from making the most of spending analysis.
• Inaccurate or incomplete data fetching and information gathering
• Inappropriate data categorization and distribution
• Lack of knowledge of organizing data
• Poorly designed data structures provide ambiguous statistics
• Multiple users access to modify (add/ delete/ update) spending data
• Lack of awareness of the spending resources
• Cluttered work environment, uncleared procurement process execution
Efficient Spend Analysis Using eProcurement Software
We have learned so much about spend analysis. Now it's time to get the visuals of what it looks like and how you can make the major decisions based on Spend Analysis.
Spend Analysis Module in BusinessBid eProcurement Software
BusinessBid eProcurement software provides a solution for all procurement processes by providing a unified platform to create, manage, and track all procurement processes along with one-to-one communication with the vendors.
The spend Analysis Module in BusinessBid eProcurement software gives a clear picture of the spending with graphical representation and spend analytics.
This is the overall picture of what the spend analysis tab looks like.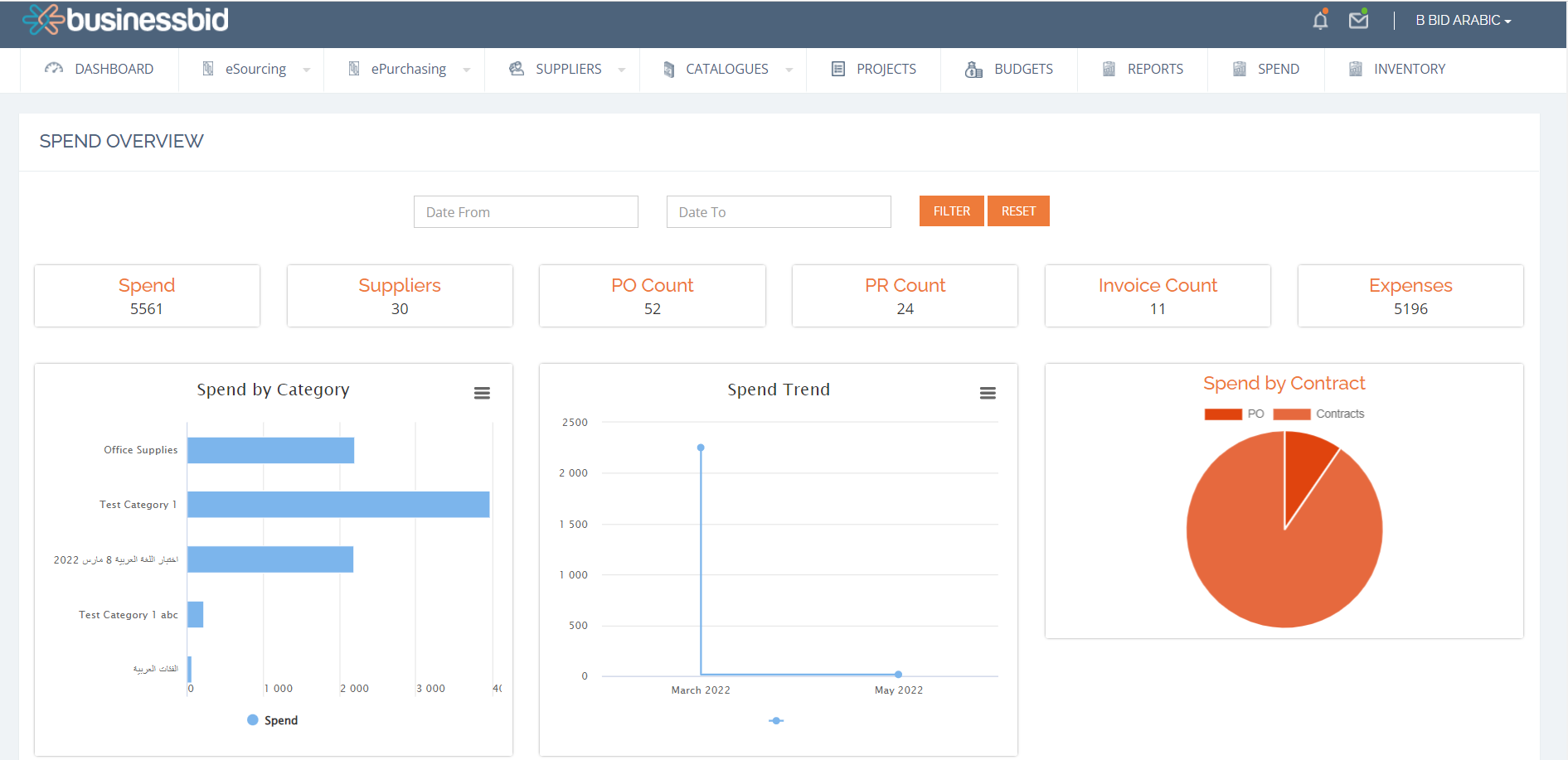 Let's explore each section one by one.
Spend Overview
You can select the date range and all the relevant stats will be available to you with just a single click!
You can view Total Spend, Suppliers, Purchase Order Count, Purchase Requisition Count, Invoice Count, and Total Expenses.

Spend By Category
Spend by category, as the name suggests, tells us about how much spend is being made on that specific category for the selected period.
You can view the graphical representation category-wise for the spending.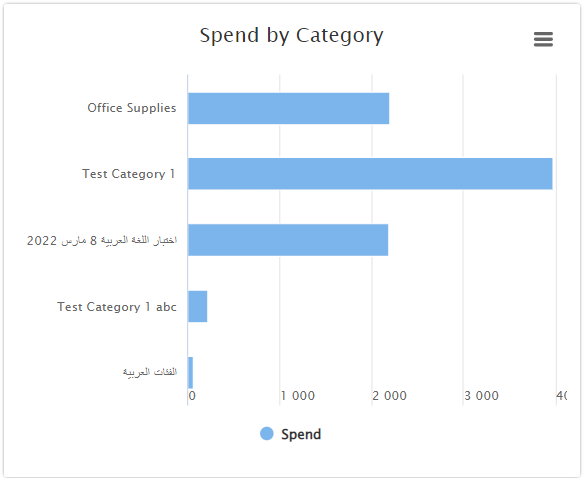 Also, you have several options available associated with the spending details.
You can view, and download the image in different formats for multiple uses, download an excel file for that graph, and lastly, you can view the data table.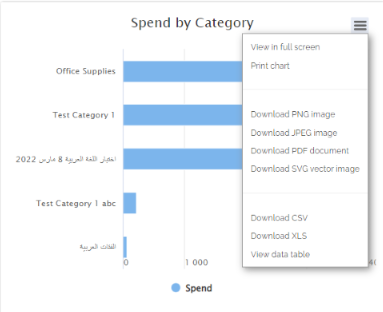 Spend Trend
This graph depicts the spending trend that is observed between the selected dates. It is useful when you want to determine the spending trend of your business.
It helps when you're planning your future spending. As it is very important to analyze the spending trends to make strategic and proactive decisions.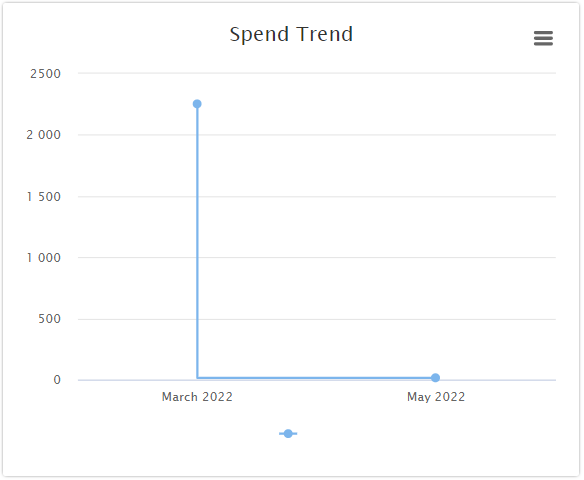 Spend by Contract
Spend by contract is the amount that is spent by the organization which is covered under a contract with the vendor. In spend by contract, you can determine the amount and the ratio of the spending by the POs and the contracts.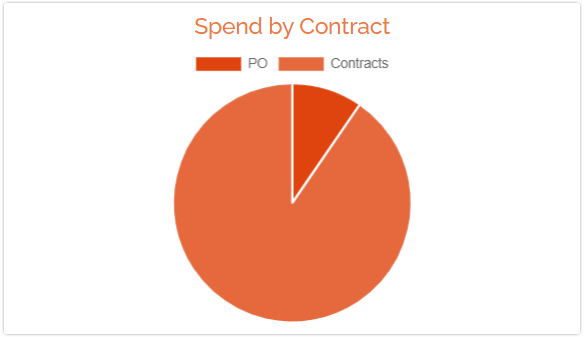 Spend By Region
Spending by region helps us to determine the regions where our spending is taking place.
The pie chart shows the region-wise distribution so that we can analyze the potential risks and make proactive decisions if somehow there is any law or rule change so that our working relations with those regions won't get affected.
P.S In this case, co-incidentally, we have only one country where most of our spending took place over the selected time.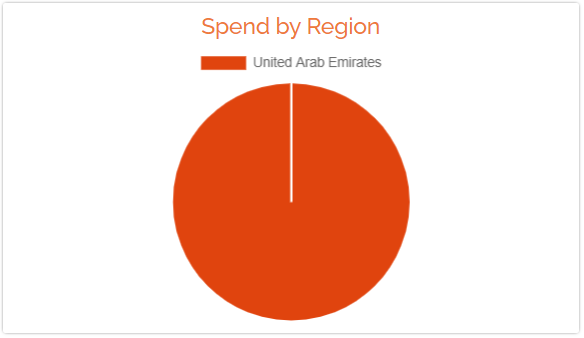 Spend By Supplier
Spending by suppliers is by far the most interesting part for me. With this, you can identify the potential suppliers with whom you've made the most of your business.
This is helpful when it comes down to shortlisting suppliers or placing orders urgently. You can identify those suppliers and eventually, you would be having good terms with them concerning order placement, invoices, and deliveries.
So, this is a go-to-chart for your organization to identify potential suppliers and maintain good supplier relationships with them. Since you don't want to lose them, and you know that they play a big role in your company's business.
Also, on the other hand, it gives you an update about the new suppliers that are being added to your list.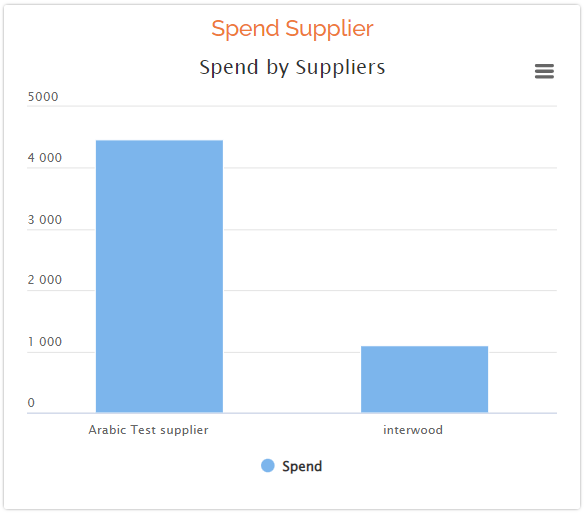 Read Also: Importance of Vendors Management and Collaboration
Expenses By Departments
Expenses by departments tell us about the expense of each department. It gives an insight that how much spending is being made by the departments. It also helps us to plan future expenses and manage the budget allocation for each department.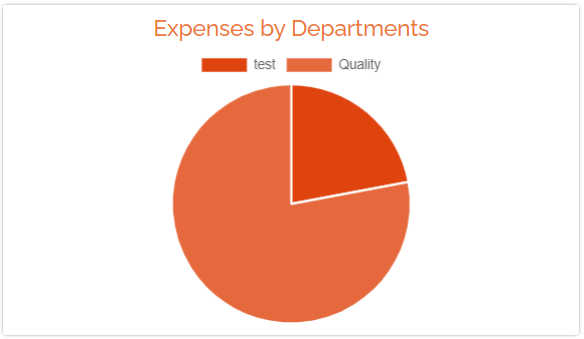 Final Words
We have seen how the automated software helps us to analyze the spend analysis where raw data is converted into a meaningful form and provides an insight into an organization's procurement activities.
It helps to analyze and plan costs to procure goods and services for your organization. It is the best tool that you need while planning business expenses and want to take a quick look at the company's expenses.
With the help of this, you can identify the areas where most of your spending is taking place and you can decrease the costing comparing those charts and reports.