Scale Your Business With These Simple Steps to Building Solid Digital Procurement Strategy
20 - February - 2023
Do you want to see your competitors excel in the digital world while you're still trying to implement a digital procurement strategy?
It's time to catch up! Companies that have embraced data-driven procurement strategies are reaping the benefits, with 82% reporting positive results and not just a passing 42% of CPOs now view procurement as a crucial aspect of their company's strategic digital transformation.
If you want to stay competitive in 2023, it's essential to have an effective procurement strategy in place.
In this article, we'll take you through 11 steps to help you implement a digital procurement strategy and provide you with the best practices to remember.
So, let's dive in!
What is a Procurement Strategy?
Using technology to enhance the buyer experience, lower costs, and accelerate the acquisition process, digital procurement is a popular methodology for buying goods and services. Both buyers and sellers should find the purchasing process to be as simple as possible. A digital procurement strategy describes utilizing technology to enhance purchasing of goods and services.
An organization's goal with a digital procurement strategy should be to:
● Choosing suppliers as per their knowledge, reliability, and price for the best monetary value.
● Quickly adapts to shifting business requirements by easily discovering and getting new suppliers.
● Adherence to laws, rules, and policies governing procurement.
Digital supply chain management has grown quickly due to the rising acceptance of the digital transition and the increasing number of businesses embracing it. A recent report projects that this year's market for digital commerce will be worth USD 9 trillion. Any business model should include a digital sourcing strategy to enhance an organization's performance and efficiency by maximizing the use of assets, improving performance, and minimizing waste.
Types of Procurement Strategies Trending in 2023
It is significant to note that every organization can implement procurement strategies. The various types of procurement strategies are as follows:
Green Purchasing: Green purchasing refers to purchasing environmentally-friendly products and services, such as using renewable energy sources or recycled paper for printing documents.
Global sourcing: It involves buying goods and services from suppliers or companies located abroad, which helps organizations save money by avoiding import duties and taxes.
Total quality management (TQM): It refers to the management approach that strives to improve all aspects related to quality, from the production process to the delivery of goods and services, as well as after-sales service. TQM focuses on enhancing efficiency, reducing defects, and increasing employee and customer satisfaction through continuous process improvement.
Cost Minimization: Cost reduction is one of the most commonly used procurement strategies worldwide. Businesses can achieve this to reduce costs by negotiating for better deals with vendors or switching to less expensive alternatives, provided they already have adequate resources in stock.
Optimizing Supply Chain: In today's business environment, it is crucial to managing suppliers effectively to remain competitive. To optimize your relationship with suppliers, you must understand their requirements and provide incentives such as discounts based on specific standards set by your company.
Risk Management: Companies use procurement strategies like risk management to mitigate the risks of purchasing goods and services from external sources such as analysis of the suppliers' backgrounds, financial stability, and reputation before entering a business deal.
Framework of Procurement Strategy
Businesses can choose from a variety of purchasing options with the aid of a framework for their procurement strategy:
● Buying Decisions
Any new software, vendor, or nation may fall under this category.
● Where Can I Purchase It?
For instance, you can decide if you want to purchase domestically or abroad or if you want to use conventional online auction sites or more sophisticated sourcing platforms. The decision also depends on your decision to opt for an open market or targeted approach.
● Why Are You Purchasing It?
The critical component of your procurement strategy is the most challenging to respond to and implement. It involves ensuring your purchase satisfies your business requirements, aligns with your business's objectives, and provides value for money, all of which are important.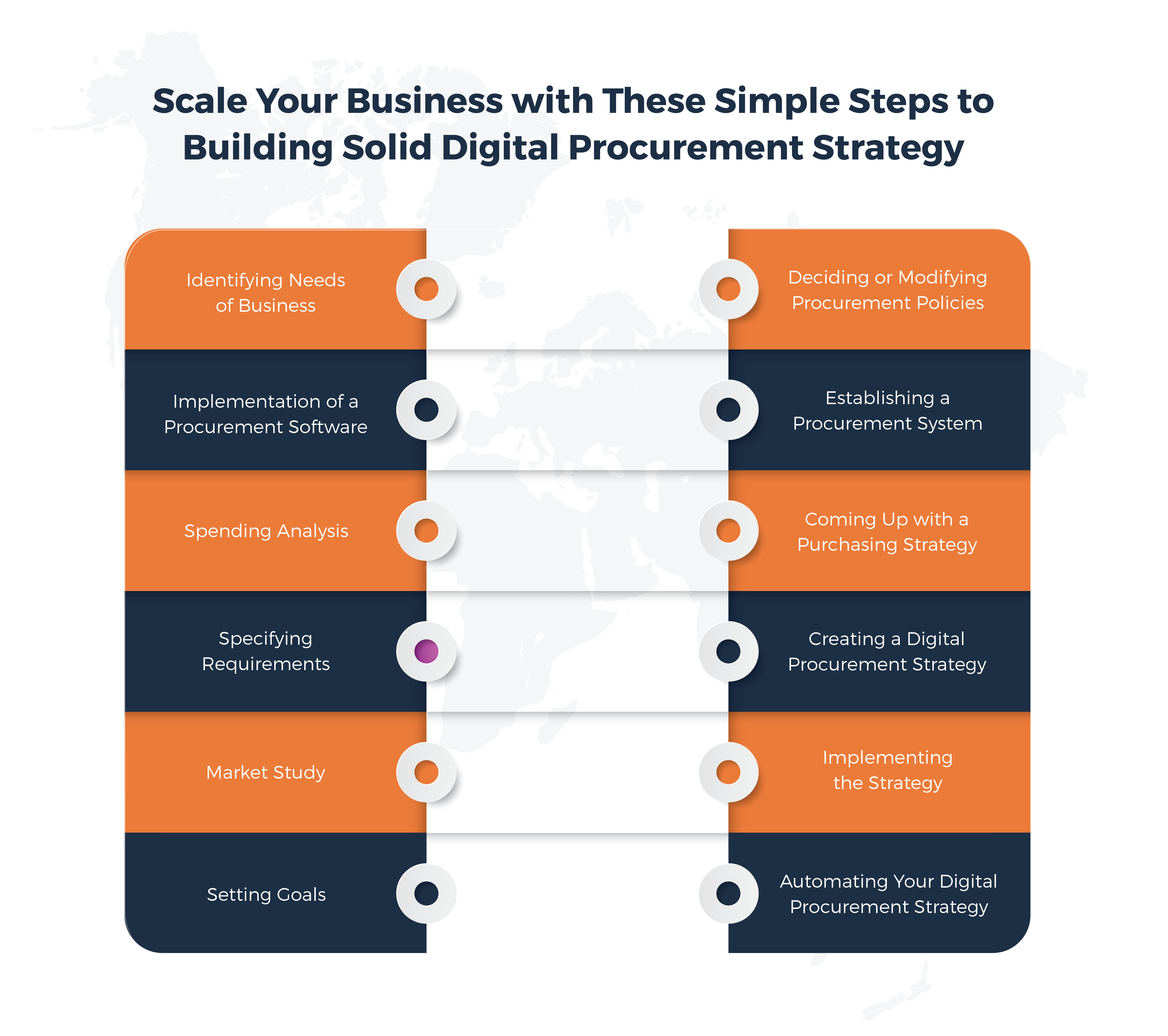 Simple Steps to Digital Procurement Strategy
Identifying Needs of Business
To develop an effective digital procurement plan, initially evaluating your business's requirements is essential. The next step would be to look for areas incurring excessive expenses or experiencing delays, which supply chain segments need improvement, and what new products or services you want to introduce. Businesses can then assess these aspects and decide on either the automation of procedures or streamlined workflows, considering the potential impacts on their business model.
Implementation of a Procurement Software
Procurement software automates the vendor purchasing process by controlling contractors, suppliers, and spending caps and lowering the costs associated with manual bookkeeping.
Procurement software is essential to any digital procurement strategy because it streamlines the process of locating and buying goods and services while keeping track of all expenditures. It also helps manage supplier relationships for a strong procurement strategy.
Using a good procurement software program, you can quickly create purchase orders on the go using a smartphone or tablet, view purchase history and invoices in one location, track supplier performance over time and search for vendors based on particular criteria like product type and price range, all while saving time and effort.
Spending Analysis
The initial step is to assess and scrutinize the organization's current spending to establish a solid foundation for the procurement strategy. This is crucial since a well-defined procurement strategy requires specific information.
To acquire this data, you must engage with various stakeholders within the company, including those linked to the procurement process and suppliers. It's worth noting that you must also consider any expenses not captured by tools like TCO.
Specifying Requirements
Your organization's goals must be communicated and discussed with various stakeholders. Prioritizing these goals is crucial since they form the foundation of your procurement strategy. Through extensive discussions and scenario planning, you can identify potential cost-saving opportunities.
Although your organization may have several requirements, it's crucial to identify the fundamental needs that must be prioritized during procurement strategy development.
Take advantage of the chance to optimize your procurement strategy and achieve your organizational goals by prioritizing them in the procurement process.
Market Study
It's crucial to understand the domain deeply by studying the market for optimal results. To accomplish this, evaluating the current supply market conditions is paramount. Engage with potential vendors and your existing suppliers to assess the market situation.
Next, constantly update the information you collect to reflect the latest market trends. This updated information will provide a solid foundation for creating a procurement strategy aligned with market conditions.
Using tools like Porter's Five Forces, you can identify potential opportunities and threats to your procurement strategy.
Setting Goals
It's critical to set SMART objectives to represent your organization's goals through digital platforms. For instance, improving customer satisfaction or reducing costs through e-procurement tools are potential objectives that can transform your procurement strategy.
Furthermore, making it easier for suppliers to conduct business with your organization should also be a key objective. Achieve this by providing standardized templates and forms through an online portal or system to facilitate the submission of bids or proposals.
Setting clear and specific objectives ensures that your digital procurement strategy is aligned with your organization's goals, helping you achieve success while gaining a competitive edge.
Deciding or Modifying Procurement Policies
You need to identify and address the issues within your current procurement policy for an effective procurement strategy. Start by analyzing your policy and identifying the areas that require improvement.
Avoid starting from scratch, as this can lead to a significant waste of valuable labor. Instead, focus on modifying your current policy to meet your business's current needs. This will enable you to avoid common pitfalls while ensuring that your policy is aligned with your organization's goals.
By making these changes, you can create a more efficient and effective procurement strategy that will help your business succeed.
Establishing a Procurement System
Establish a successful digital procurement strategy using the following steps to streamline your supply chain.
These may comprise:
Efficient purchase order management entails handling all purchase orders electronically (e-POs) or physically (paper POs). A properly executed e-PO system empowers you to monitor each purchase order from initiation to completion, including its creation, approval, and receipt by the vendor.
Coming Up with a Purchasing Strategy
Developing a well-thought-out procurement strategy that considers all aspects of your business's needs, including making critical decisions on sourcing options, pricing, and quantities, is essential. If you're planning on purchasing items in bulk, it's necessary to calculate the projected usage over the next 12 months to determine the quantities needed.
Additionally, it would help if you decided whether to source from single or multiple suppliers and whether local or international suppliers would meet your needs. If you use an online auction platform like eBay or Amazon Marketplace, you'll need to determine who will bid on your behalf, especially if multiple sellers offer similar products.
Consider all these factors to create a procurement strategy that ensures your business receives the goods and services it needs while remaining cost-effective.
Creating a Digital Procurement Strategy
Neglecting a digital procurement strategy can hinder your organization's ability to prioritize and achieve its objectives. Developing a digital procurement strategy involves optimizing systems, technology, talent, and other resources to use available resources efficiently.
Create a digital strategy to focus on crucial procurement activities, such as supplier negotiations, rather than administrative tasks. This saves time and resources while enabling your organization to achieve its procurement goals.
Implementing the Strategy
To achieve a successful digital procurement strategy, implementation is key. This final step requires the active participation of various business functions, such as finance and HR.
After successfully implementing the strategy, monitoring its effectiveness and making necessary adjustments continuously is crucial. This ensures the procurement strategy remains in sync with the latest market trends and supplier sentiments.
By following the above steps, you can develop a powerful procurement strategy that delivers results for your organization. Don't hesitate to refine the strategy as you go along to address any pain points that arise.
Automating Your Digital Procurement Strategy
It is undeniable that automation tools bring significant benefits to the digital procurement process. Furthermore, cutting-edge cloud platforms, which utilize advanced analytics, can now integrate data throughout an organization.
Although the specific roles and steps required may vary depending on the organization, this article aims to support innovative companies in creating a digital procurement strategy that caters to their unique requirements.
Join the Businessbid e-procurement platform to adopt a forward-thinking approach to procurement and ensure future success for your organization.