Topic: Creating and Managing Product Catalogue using eProcurement Software
12 - July - 2022
We have been highlighting and talking about the evolving business trends and how eProcurement software has turned the tables and everything becomes easier to manage.
It's like all your business operations have come down under one umbrella.
We have heard a lot about product catalogue, and in today's blog, we shall see its significance in business and how the eProcurement software has made product catalogue management easier.
What is a Product Catalogue?
A product catalogue is all about the product information and details that help buyers to make a purchase decision.
These details include product code, product name, configuration, size, weight, quantity, color, dimensions, origin, warranty, customer reviews, and more.
However, the details and associated information vary from product to product, and thus, every catalogue is created in such a way that it speaks itself about its seller.
Why Product Catalogue is Important in Business?
Product Catalogue helps businesses to showcase all the products they're offering, alongside letting the buyers or customers a chance to view all the relevant and contextual details.
In that way, everything becomes clear to the buyers beforehand, and the probability of spending time on product aspects reduce significantly.
Making purchase decisions and frequency of placing order changes meaningfully when the purchaser knows about the product details, and the decisions can be made over the set of available information.
A catalog is undeniably a crucial part of any business and holder a great value.
What is Product Catalogue Management in E-Procurement?
Product Catalogue Management has become much more exciting to use in e-procurement.
Since we have a list of products/ items/ services available on the e-platform, it becomes more convenient to sort them and group them into different categories and provide related information.
Update, delete, edit, and transfer, are the other options that you can have in e-Procurement. So why not switch to eProcurement and make catalogue management a fun task!
E-catalog also simplifies the transactional purchasing processes.
Benefits of Managing a Catalogue
Here are some of the benefits of managing a catalogue that adds great value to your business.
✔ Ease of search for the product
✔ Better organization
✔ Standardized Product Information
✔ Customer Satisfaction and Reliability
✔ Improved Business Process
✔ Precise Inventory Information Across All Boards
✔ Visible Business Growth
✔ Standardized supply process
How eProcurement Software Helps in Creating and Managing Product Catalogue
EProcurement software provides an excellent way of managing catalogues and we will see how it works. But first let's take a look at the bright side that how it helps in different ways:
- It helps in reducing the costs- by eliminating all the excess paperwork associated with the product listings and catalogues
- Overall standardization of products for smooth process flow
- More options and operations to perform on products/ items
- Bulk entry/ listing of items becomes easier
- Easy to track changes and look for any discrepancies
- A centralized dashboard to manage the products
BusinessBid Catalogue Feature
BusinessBid eProcurement software offers the "Catalogues" Feature which consists of the following sub-features:
Items
The items tab is a comprehensive one and offers so many options. You can add items individually, import, export, and also set them as inventory items (which is another comprehensive feature offered by BusinessBid)
Categories
You can add the categories for the items, and view/ edit/ update them respectively.
Unit of Measure
Unit of Measure (UOM) is yet another additional option that allows you to add the measuring units as per your product type.
Creating & Managing Catalogue using BusinessBid EProcurement Software
Now finally we are going to illustrate how BusinessBid eProcurement Software helps with product catalogue management right from creating to managing the products or items.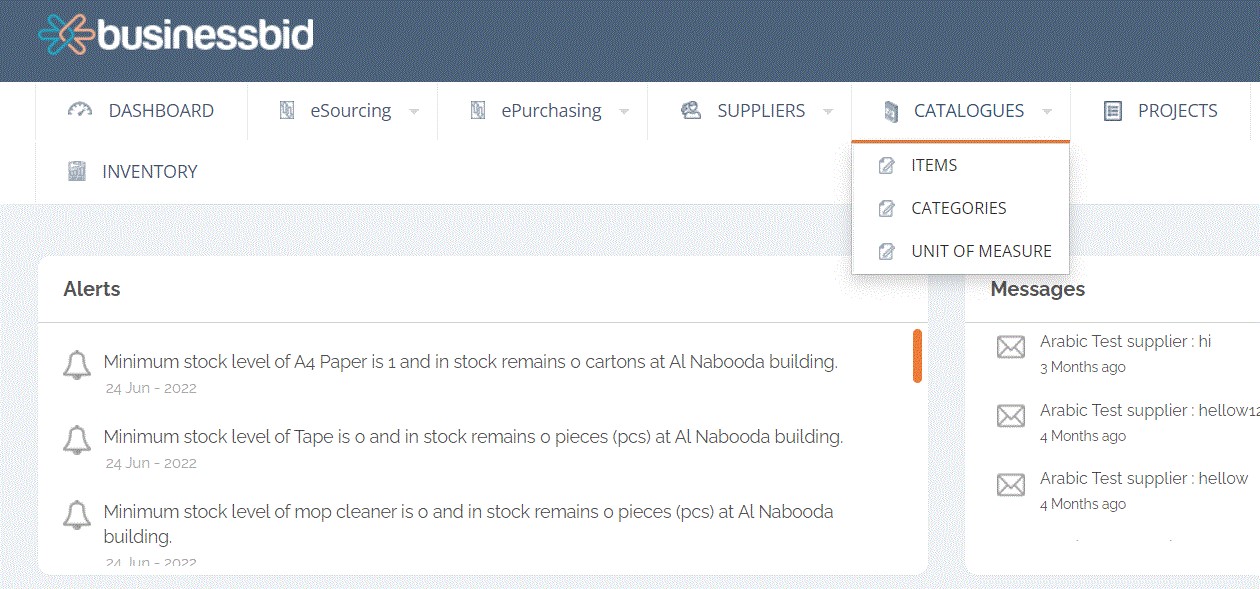 Here you can see the "Catalogues" tab with three sub-divisions. We shall look at the functionalities of each division separately. Let's begin!
Items
Click on the items tab from the catalogue drop-down menu.
You will see a dashboard of "Items List" where you see item name, item number, specification files, status, and action.
You have an option to import the items from the excel file in case you have to add items in bulk. Likewise, you can export the items, and mark the items as inventory items if you want them to be a part of your inventory.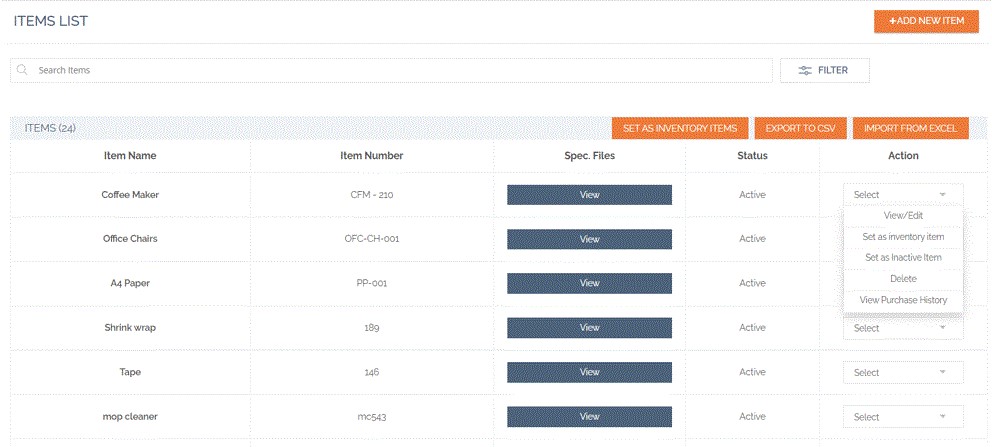 Add New Item
Click on the "Add New Item" button, and you'll direct to the page from where you can add the item. You can enter:
- Item name
- Item number
- Item image
- Item specification file
- Budgeted price
- Item description
- Status of the item (active/ inactive)
- Unit of measure (UOM)
- Item quantity
- Item category (can be more than one)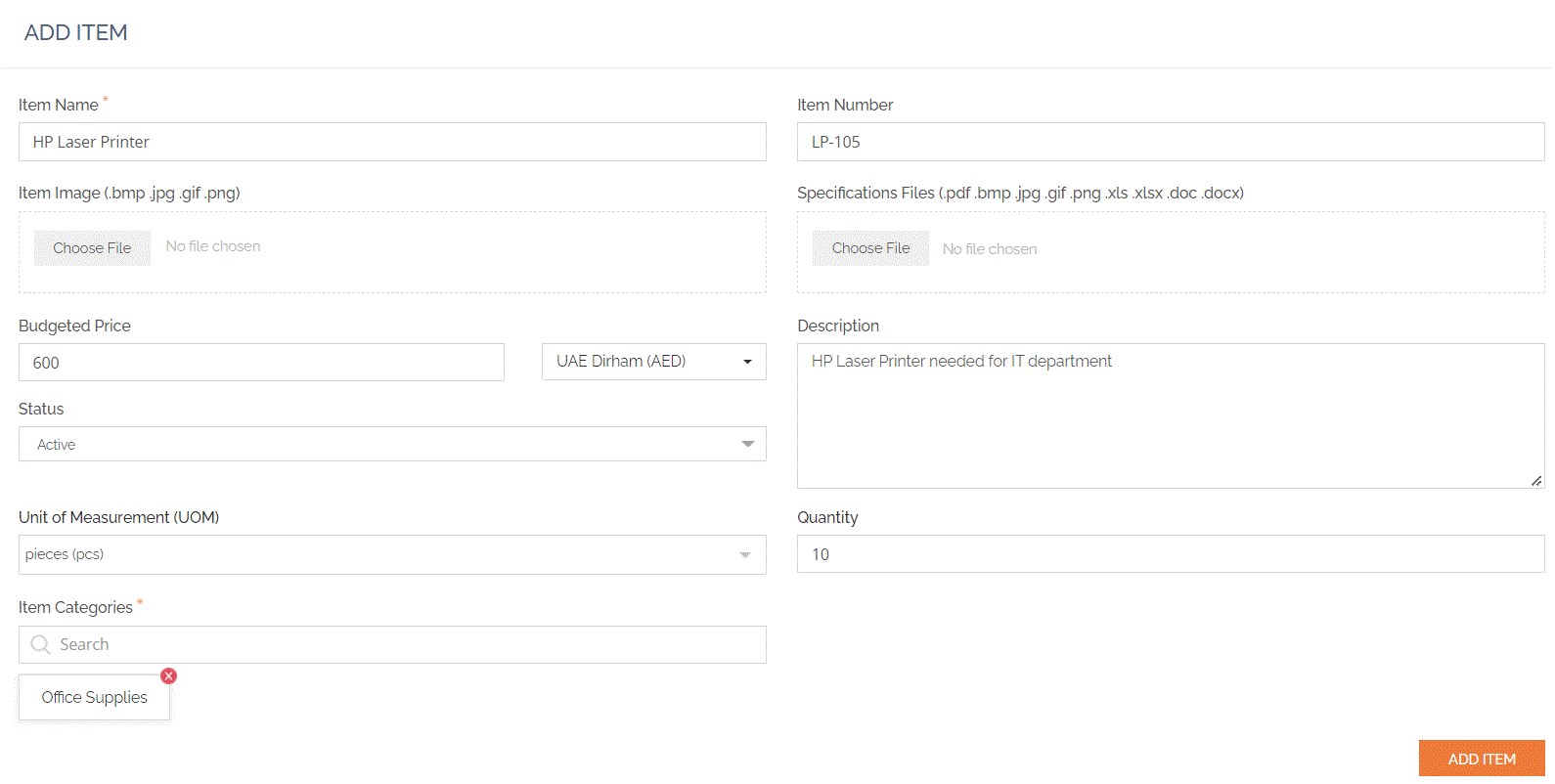 Fill in the details and click on the "Add Item" button, and the item is added to the database.
Categories
Select the "categories" option from the drop-down menu of Catalogues.
You will see the categories dashboard. Where you can see the category name, the number of items in the category, and actions (from where you can edit/ delete/ add the item to the category).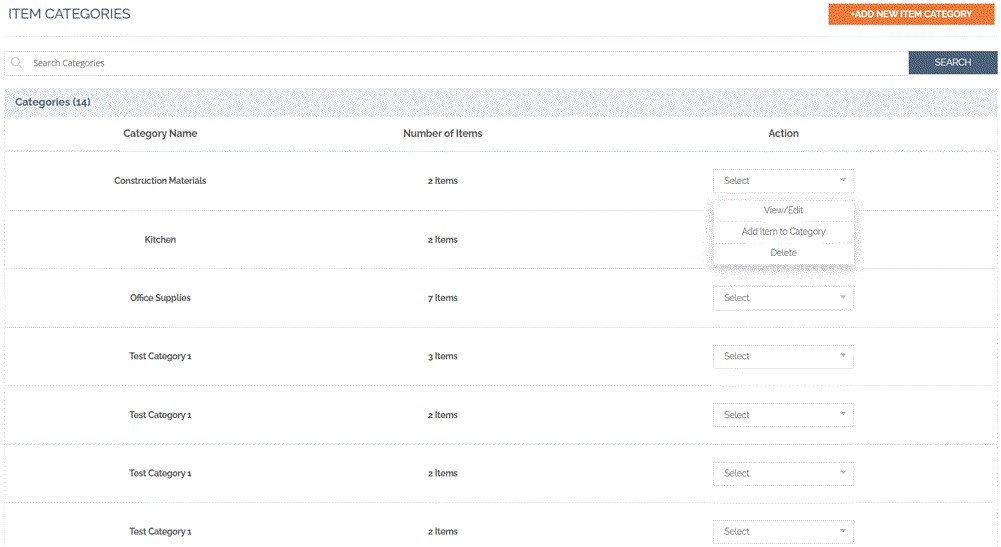 Add New Item Category
Click on "Add New Item Category" and a pop-up will open from where you can add the new category and add items into that category.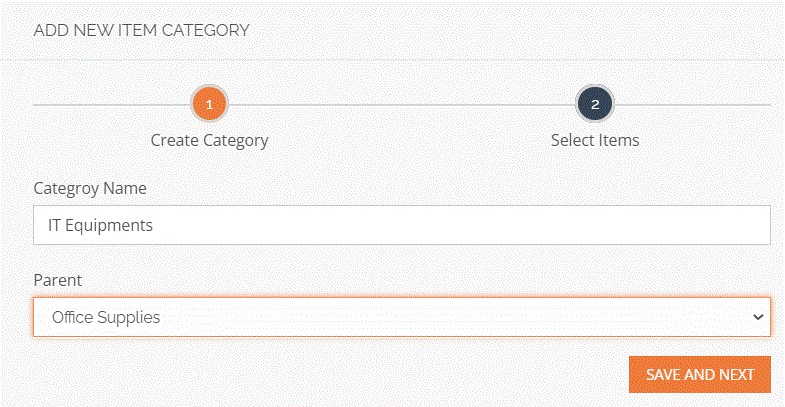 - Add category name
- Select the parent category as root or select the relevant parent category
- Click on save and next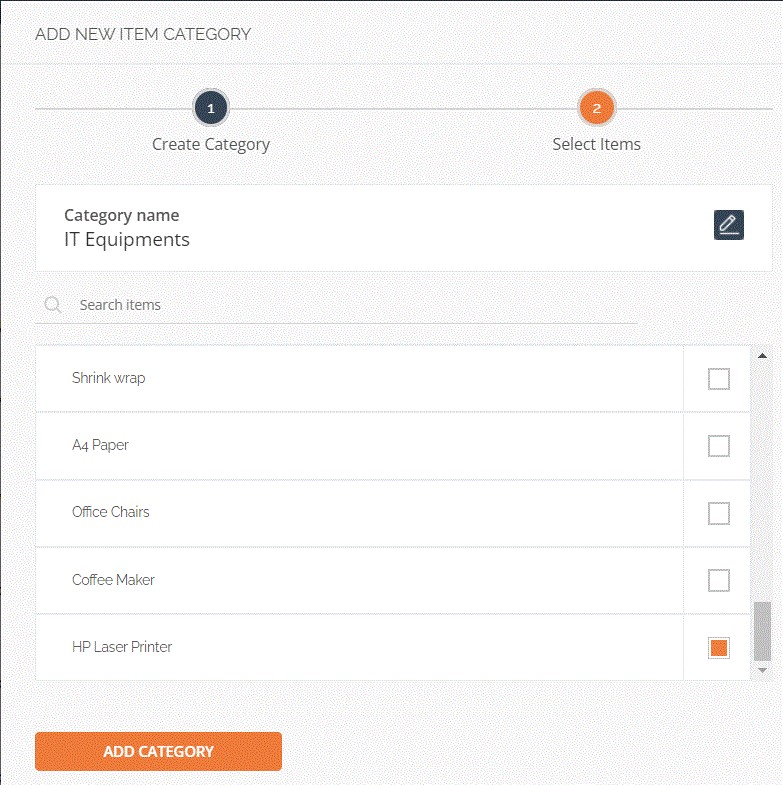 - Search the items you want to add in the category
- You can add multiple items in the category
- Click on Add Category, and the new category has been added along with the items
Note: If you do not have items to add in the category, you can simply create the category in step 1, and add the items later on.
Unit of Measure (UOM)
Unit of measures holds great value when you're dealing with goods purchasing. As it gives the clarity of the items that you're going to make an order with the proper specifications of the measuring units.
You can see the "Unit of Measure" option in the Catalogues tab. Click on that, you'll land on the unit of measure page. Here you will see the unit of measure the action (add, edit, delete), and a search option as well.

Add New Tag of Units – Unit of Measure
Click on the "Add New Tag of Units" button, and enter the new unit of measure to be added.
Here you go!

Click on the Save button and the unit is added to the list.

Final Words
We have seen many valuable features in the "Catalogues" option offered by BusinessBid eProcurement software.
It is evident from the above-illustrated images and options that product catalogue management has become more likely manageable with so many new features out there to facilitate the companies to add their customized products.
Also, keeping track, managing the products, and monitoring the flow of products in purchasing processes have become smooth and hassle-free, as everything can be viewed and controlled from a single software, from a single dashboard.
For smart product catalogue management, try BusinessBid eProcurement software, and explore the most flexible and user-friendly ways to create and maintain your business catalogue.