Best Procurement Software for Small Business-Making the Right Choice
20 - April - 2023
Do you find it difficult to manage your procurement tasks while juggling multiple spreadsheets, wading through mountains of paperwork, and being overworked? You understand as a small business owner that effective procurement is essential to the growth of your enterprise. But don't fret any longer! By 2023, the market for purchasing software will be booming, offering cutting-edge solutions to improve your bottom line and streamline your procurement process. As evidenced by statistics, small businesses can gain a lot from efficient procurement procedures.
An Institute for Supply Management (ISM) report recently claims that businesses with effective procurement procedures can save up to 30% on costs. Additionally, a Deloitte study discovered that companies with well-optimized purchasing duties are more inclined to have higher profit margins and better supplier relationships. These figures demonstrate how important software purchases can be in helping small businesses succeed. Numerous purchasing software options made especially for small businesses are readily available in 2023.
These products provide features like controlled procurement workflows, immediate stock tracking, supplier administration, and data analytics to assist you in making wise purchases. In today's fast-paced business environment, you can gain a competitive edge by streamlining your procurement process, saving time and resources, and automating your purchasing process.
We will discuss the top small business software purchases in this blog post for the year 2023 along with how you can make the right choice for your business. These software solutions are made to provide small businesses with the tools they need to grow, with features like advanced analytics, user-friendly interfaces, and seamless integrations.
Prepare to use cutting-edge purchasing software to revolutionize your procurement strategy and unleash the potential of your company!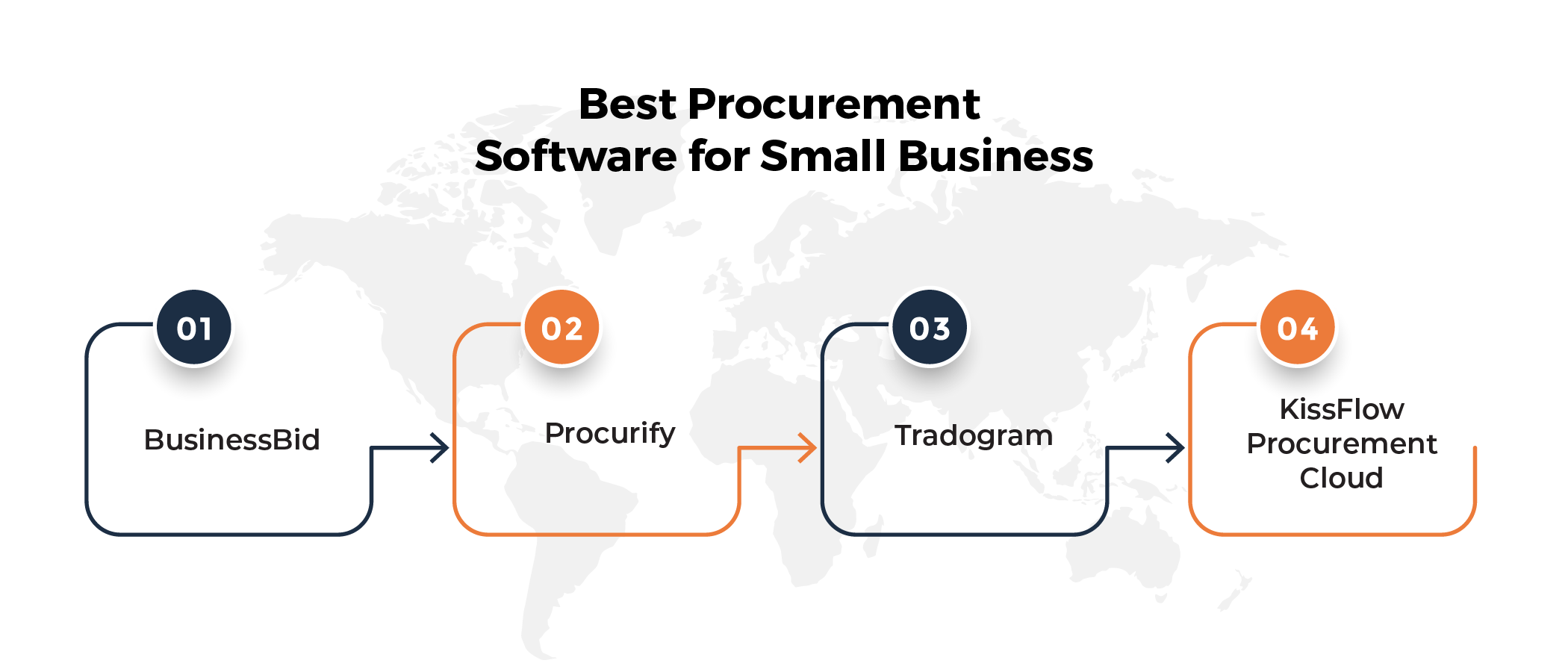 Top Procurement Softwares
1) BusinessBid
Small businesses can now optimize their procurement process like never before thanks to the user-friendly platform provided by BusinessBid. The integrated management of vendors module of BusinessBid is one of its most notable features. You can manage all of your suppliers' information with ease, keep tabs on their performance, and work together on quotes and bids with the help of this effective tool. With the help of this feature, you can be completely aware of and in complete control of your supplier relationships, which will enable you to make wise choices and uphold solid working relationships. According to the requirements of your organization, BusinessBid also offers customizable approval workflows. In order to make sure that all purchases are legitimately authorized in accordance with your established processes, you can define multiple levels of approval.
With the help of this feature, you can keep your procurement process compliant and accountable while removing potential bottlenecks and delays. With BusinessBid, it's never been simpler to create customized reports and gain insights into your procurement data. With the software's robust reporting and analytics features, you can gain important insights that can guide your procurement strategy.
2) Procurify
A comprehensive cloud-based purchasing tool called Procurify gives small businesses an efficient procurement solution. Procurify provides a strong platform to optimize your procurement process with features like purchase order management, managing suppliers, tracking inventory, and spend analytics. Utilize Procurify to quickly create purchase orders, monitor orders in real time, and manage supplier relationships all in one location.
You can save time and resources because small business owners and their teams can use it with little to no training. Powerful reporting and analytics tools are also available through Procurify, giving you important insights into your spending habits. To maximize the effectiveness of your procurement strategy, find cost-saving opportunities and make data-driven decisions. Moreover, your financial procedures will be improved by seamless integration with well-known accounting programs like QuickBooks and Xero.
3) Tradogram
A complete set of procurement tools are available for small businesses through Tradogram, a cloud-based purchasing software. It offers attributes like spend analysis, RFQ (Request for Quotation) management, supplier management, and purchase order management. Creating purchase orders, working with your team, and managing your supplier relationships are all made simple with Tradogram. The ability to create customized reports and gain insight into your procurement data is one of Tradogram's key features. It also offers advanced reporting and analytics tools. For small business owners who are constantly on the go, the software also provides a mobile app that lets you manage your procurement process while on the go.
4) KissFlow Procurement Cloud
Kissflow Procurement Cloud is a comprehensive procurement software solution that offers an extensive array of features designed to simplify and optimize your purchasing process. This all-in-one platform provides robust tools for requisition management, purchase order management, supplier management, and contract management, allowing you to automate your procurement workflows, collaborate with your team, and gain full visibility into your procurement activities. One standout feature of Kissflow Procurement Cloud is its integrated vendor portal, which empowers your suppliers to submit bids, invoices, and manage their information directly within the software. This streamlined communication and collaboration process with suppliers helps to minimize errors and delays in your procurement process, ensuring smooth operations and efficient procurement interactions.
By leveraging Kissflow Procurement Cloud, your small business can effectively manage the entire procurement lifecycle, from requisition to payment, all within one centralized platform. The software provides intuitive and user-friendly interfaces, making it easy for your team to adopt and utilize the features to streamline your procurement operations. With automated workflows and real-time analytics, you can optimize your procurement process, reduce manual errors, and make data-driven decisions.
Barriers to Manual Procurement Functions
Different industries get different solutions based on how their internal operations are structured, and the solutions you're currently using, there may be a variety of challenges in the procurement field. The issues with purchasing that small businesses frequently encounter are listed below.
Poor Communication
When using manual procurement processes, employees must email the procurement lead to explain new requests they have created on spreadsheets. This creates a communication gap that frequently occurs. Delays and a lack of understanding may result from this back-and-forth conversation. For minor clarifications, multiple email rounds might be required, which would slow down the procurement process even more.
Lack of Centralized Management
Employees may make purchases outside of established contracts when manual procurement operations lack centralized management. This can put pressure on procurement budgets and introduce non-standard supplies into internal operations. This lack of oversight and control may also make it more difficult to track and manage procurement activities and reduce the cost savings from negotiated contracts. Achieving better contract compliance, cost management, and operational efficiency can be achieved by implementing automated procurement systems and strong procurement policies. Employees may make purchases outside of established contracts when manual procurement operations lack centralized management. This can put pressure on procurement budgets and introduce non-standard supplies into internal operations.
Poor Security
Procurement plays a crucial role in the financial operations of your business, as it involves the outflow of cash and handling sensitive data such as bank accounts and credit card details. However, relying on an Excel spreadsheet to manage this information may pose security risks. Excel is not specifically designed for procurement operations and may not provide adequate safeguards to keep your data safe. As a result, your operations could be vulnerable to compromise and breaches, potentially leading to data breaches or other security incidents. Utilizing dedicated procurement management tools that are designed with robust security features can help mitigate these risks and ensure the confidentiality and integrity of your procurement data.
Delay in Approvals
The manual processing of action items in procurement can cause delays in approvals because staff members and controllers must communicate back and forth to fully understand the status of each item before moving forward. Inefficiencies, longer cycle times, and potential mistakes in the procurement process can result from this. It can be difficult and time-consuming to track the development of action items without automated tools and simplified workflows. Adopting procurement software that automates approval workflows, streamlines stakeholder communication, and provides real-time visibility into the status of action items can hasten the procurement process, improve decision-making, and boost overall operational effectiveness.
Unidentifiable Action Status
Before investing in specialized procurement software, a lot of small businesses manage their procurement processes using spreadsheets and emails. Employees typically enter action items, such as purchase requisitions, into a backlog, such as a sizable spreadsheet where previous items are kept. Due to the lack of a specific tool for tagging action items, this can make it difficult to track and accurately categorize them. Because of this, organizations may need to manually check with workers or rely on mental records to ascertain whether action items are in the to-do, in-progress, or done stages. Without a focused solution in place, this can eventually become almost impossible to manage.
What Requirements Should a Procurement Software Fulfill?
It is crucial to examine a number of elements while creating specifications for procurement software. These important prerequisites are broken out as follows:
Growth
When evaluating procurement software, take into account your organization's future expansion ambitions. Your organization's buying needs may change as it expands. To accommodate future expansion, look for software that can expand, offer flexibility, and manage bigger transaction volumes. Check to see if the software is compatible with the long-term goals of your firm and is able to easily adjust to shifting procurement requirements.
Reporting and Analytics
Having robust reporting and analytics tools that allow for tracking and analyzing the performance of procurement is a critical necessity for procurement software. Search for software that provides real-time analytics, visual dashboards that give insights into procurement activity, and customized reporting formats. These characteristics can facilitate data-driven decision-making, aid in pinpointing areas that require improvement, and improve procurement performance monitoring.
Collaboration with Suppliers
Effective supplier collaboration is essential to the procurement process. Be on the lookout for software that facilitates smooth interaction and coordination with suppliers, such as automated supplier onboarding, RFx management, and supplier portals for submitting bids, maintaining contracts, and keeping track of performance. Features for collaborating with suppliers may strengthen connections with them, simplify communications, and increase the effectiveness of procurement.
Integration and Scalability
Your current systems and tools, like ERP, accounting, or e-sourcing platforms, should connect effortlessly with your procurement software. For a simple connection with your existing technological stack, look for software that offers connectors or APIs. As your organization grows and your demands change, such as when adding more users, and suppliers, or extending your procurement processes, you should also think about the software's capacity to scale.
Assistance
Consider the amount of assistance and training offered by the seller of the procurement software. To guarantee seamless setup, onboarding, and continuous use of the program, look for providers who provide thorough documentation, training materials, and timely customer support.
Cost-Effective
Maintaining your budget is crucial when looking for procurement software, but you shouldn't only concentrate on the least expensive solution. Instead, think about the benefits the program may have for your company. Analyze the return on investment (ROI) the software may offer in terms of cost reductions, operational improvements, and increased procurement performance. To meet your organization's procurement demands, look for software that provides a fair mix between price and essential features and functions. When assessing the acquisition software budget, it's crucial to take into account the total cost of ownership, which includes any continuing maintenance, support, and upgrade charges.
Ease of Use
Consider the procurement software's usability while evaluating its ease of use. Users should only need a minimum amount of training to use the program efficiently, therefore it should be intuitive, simple to browse, and have a user-friendly interface. Look for features that can increase user adoption and productivity, such as customizable dashboards, straightforward processes, and a clear user interface.
Making Decisions!
Now that you have understood all the key features that you need to think about before buying procurement software for your small business. Keep in mind the barriers that you can face along with the possible advantages that you need to look out for. As suggested above, BusinessBid can be a good option for you to choose. BusinessBid empowers small businesses to transform their procurement operations and unlock value with contemporary features like powerful workflows, effective communication and collaboration tools.